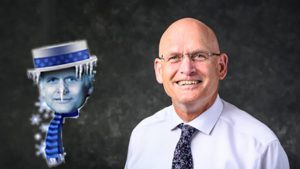 A longtime university professor will oversee UW-Madison's research enterprise and graduate education, the university announced Monday.
Chancellor Rebecca Blank named Steve Ackerman the next vice chancellor for research and graduate education, one of a handful of high-profile positions that report directly to Blank. The job entails overseeing $1.2 billion in annual research spending and thousands of graduate students.
Ackerman emerged as the top choice in a search that began in 2018 but was put on hold last spring. He faces the challenge of reversing a recent slide in the university's national research ranking and increasing research conducted in collaboration with businesses, an area in which UW-Madison significantly lags behind peer institutions.
He has served in the position on an interim basis since August and will assume full responsibilities next week. During a Faculty Senate meeting Monday, he said he is confident UW-Madison will increase its research spending level in the next round of rankings.
"As UW-Madison looks to maintain and strengthen its role as a research powerhouse and build important partnerships across campus and beyond, Steve is the most thoughtful and innovative leader for the job," Blank said in a statement.
Ackerman came to UW-Madison in 1987 and in 1992 became a professor in the Department of Atmospheric and Oceanic Sciences, where his research focused on the energy balance of the Earth's atmosphere.
He has served in a number of leadership positions, including associate vice chancellor of research in the physical sciences, interim director of the Space Science and Engineering Center, and director of NOAA's Cooperative Institute for Meteorological Satellite Studies (CIMSS) for 18 years. He has also co-written a popular weekly column in the State Journal, "Ask the Weather Guys," for many years. A university spokeswoman said he plans to continue it in his new role.
Ackerman has mentored more than 60 master's and doctoral students — work he said he will miss the most in his new role.
Among Ackerman's priorities in his new post are to create a campuswide mentoring program and improve the efficiency of the university's boards that review research involving human research subjects.
This content was featured in the Wisconsin State Journal on March 3, 2020.