The just completed month of May was quite unusual in southern Wisconsin this year.
First, it was a bit cooler than normal, with the average temperature ending up 0.6 degrees below normal. Dryness over central and western Canada brought large wildfires to those areas much earlier than normal this year, and the smoke from those fires gave us a number of orangey sunrises and sunsets this past month, which are more normal in July and August.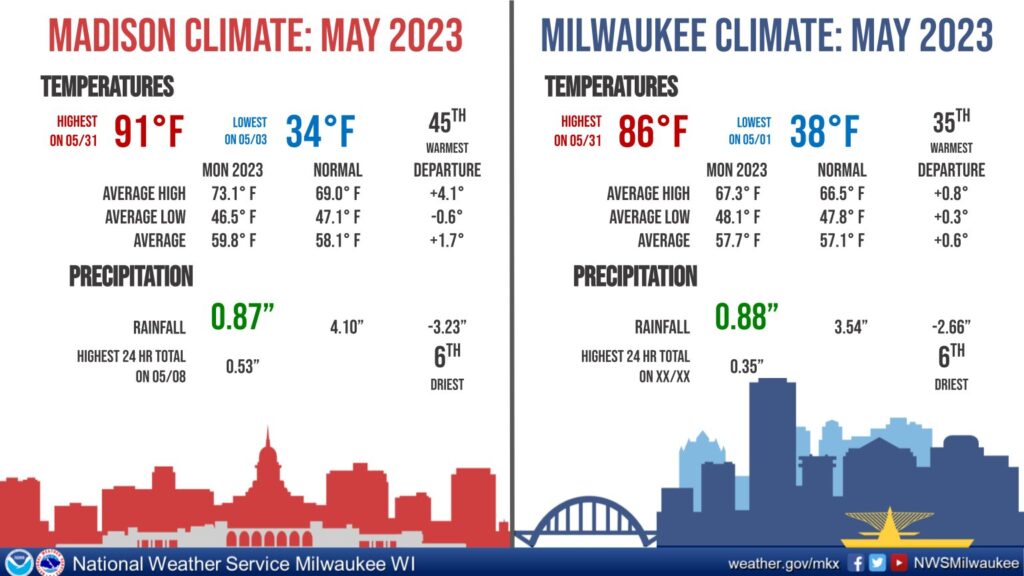 The dryness was widespread this May, in fact, as the Dane County Regional Airport totaled only 0.87 inches of rain in May, 3.23 inches below normal for the month. That is the predominant reason lawns around town are looking a bit yellow this early in the season — again, more like what we normally see in July and August.
Despite the relative coolness of the month as a whole, the temperature soared to 88 degrees on May 30, 91 degrees (our first of the season) on May 31, 89 degrees on June 1, 89 on June 2 and 91 on June 3. Were we just a bit warmer on three of those days, we would have set the earliest five-day streak of 90-degree days in Madison's meteorological history. In fact, no five-day or longer such streak has ever had its origin in May.
Very recent events are the only close competitors, in fact. May 10-13 last year we had four straight days at 90 degrees or above (the earliest ever such streak) and from May 26 to 29, 2018, we also had a four-day streak. It had never happened before and almost happened again this year. Summer is certainly making itself known.
Steve Ackerman and Jonathan Martin, professors in the UW-Madison department of atmospheric and oceanic sciences, are guests on WHA radio (970 AM) at 11:45 a.m. the last Monday of each month. Send them your questions at stevea@ssec.wisc.edu or jemarti1@wisc.edu.