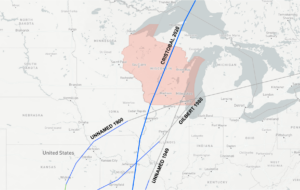 A tropical cyclone is a rotating low-pressure system that has organized thunderstorms but no fronts. When a tropical cyclone's maximum sustained winds reach 74 mph, it is called a hurricane. Hurricanes have never directly impacted the Upper Midwest region of the U.S.; however, the remnants of a hurricane or tropical storm have impacted the weather in the Midwest, including Wisconsin.
If a hurricane is particularly strong at landfall, it can move far enough northward to cause a significant rain event for areas in the Midwest. For the most part, such storms originally make landfall in Texas, Louisiana or Mississippi. These storms can be tracked by satellites or surface weather observations because they maintain an identifiable circulation pattern along their entire path.
A University of Iowa study analyzed discharge measurements of the U.S. Geological Survey (USGS) stream gauge stations from 1981 to 2011. Their study analyzed the stream gauge water discharges with the passage of the storms over the Midwest and eastern states and constructed maps of the relationship between inland flooding and tropical cyclones. The analysis demonstrated that these tropical storms can impact large areas of the United States, including Illinois, Wisconsin and Michigan. The natural hazards associated with these weather events are similar to flooding, which can impact 10 to 15 states hundreds of miles from the coast.
The amount of financial damage caused by such storms in the Midwest and the eastern United States will be a subject of future study.
Steve Ackerman and Jonathan Martin, professors in the UW-Madison department of atmospheric and oceanic sciences, are guests on WHA radio (970 AM) at 11:45 a.m. the last Monday of each month. Send them your questions at stevea@ssec.wisc.edu or jemarti1@wisc.edu.