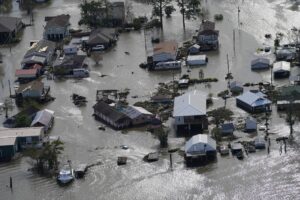 It has been a particularly impactful hurricane season in the Atlantic thus far. As of Sunday, there have been 12 named storms — Larry being the current storm of interest.
Hurricane Ida was a very impactful storm, and tens of thousands remain without power in the metro New Orleans area. The so-called remnants of Ida also walloped the northeastern U.S. on Wednesday and Thursday, resulting in dozens of deaths and widespread flooding in many states not usually so affected.
The climatological peak of the Atlantic hurricane season is Sept. 12, so we are only halfway into the season thus far.
On Sept. 5, 1935, the devastating Labor Day hurricane swept along the west coast of the Florida peninsula after rumbling through the upper Florida Keys. The central minimum sea-level pressure of that storm got down to 892 hPa, the third-lowest ever recorded in the Atlantic basin. Since standard sea-level pressure is 1,012 hPa, nearly 12% of the air that usually occupies the column of atmosphere from the surface to outer space on that day had been exported to some other place. The extremely low surface pressures coupled with the relatively small radius of the quasi-circular storm, led to a huge horizontal pressure gradient which, in turn, drove the extraordinary winds of the storm — reaching a one-minute average of 185 mph on Sept. 2.
In contrast, Ida had winds of nearly 150 mph just as it struck the Louisiana coast Aug. 29. Only 10 hours later, the winds had weakened to 105 mph as the storm rapidly decayed over land.
Given the greatly increased population density of the region, were another storm as ferocious as the Labor Day hurricane of 1935 to strike the U.S. again, the damage would be even worse than what we saw with Maria in 2017 or Ida just last week.
Steve Ackerman and Jonathan Martin, professors in the UW-Madison department of atmospheric and oceanic sciences, are guests on WHA radio (970 AM) at 11:45 a.m. the last Monday of each month. Send them your questions at stevea@ssec.wisc.edu or jemarti1@wisc.edu.