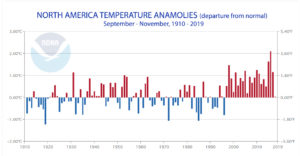 As we have reported several times over the years, the evidence is clear that over the entire Northern Hemisphere winter temperatures have been systematically warming over the past 70 years.
We base that conclusion on measuring the extent of air with a temperature of 23 or colder at the 850 millibar level, which is located about 1 mile above sea level. Such a measure can equally be made in the autumn months.
In fact, September-November 2019 ranked as the 12th warmest such period in the 72 years records are available.
That may come as a shock to Madison residents who have endured a relatively cold September-November this year (2.7 degrees colder than normal) characterized by record amounts of snow. ×
It is also notable that the top 15 warmest September-Novembers have occurred since 2000, suggesting that something systematic is occurring in the autumn as well.
In fact, the seeming contradictions exemplify aspects of the conceptual difference between climate and weather.
The weather brings day-to-day variability in meteorological conditions to a given location while the climate sets the backdrop for the parade of weather systems that deliver such variability.
That's why it is still possible to get periods of severe cold in Madison in an overall warming climate.
It is likely, however, that such episodes will become less frequent and less severe as the planet continues to warm.