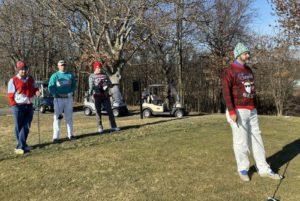 Despite the slight touch of winter on its last morning, December 2019 was an unusually warm month both locally and hemispherically.
Here in Madison, the month averaged 7 degrees above normal, with the highest temperature of the month, 55, occurring on Christmas Day, just one degree shy of the all-time daily record.
Across the entire Northern Hemisphere, the areal extent of air colder than 23 degrees at approximately 1 mile above the ground was the smallest ever in the 72-year record. It is nearly impossible to say what this exceptionally warm month means for the rest of the winter, especially locally.
Any of us who have lived here long enough know that winter has a way of making its presence felt even when off to a slow start. No matter what happens next in southern Wisconsin, we have passed what is normally a hard-hitting winter month relatively unscathed.
Hemispherically, there may be a bit more predictability given the warm December. Seven of the prior top 10 warmest Decembers have also ended up in the top 10 warmest winters (December, January and February). Two made modest rallies from 12th and 16th warmest Decembers to end up in the top 10 warmest winters. The outlier was the winter of 2001-02 which started off as the 48th warmest December and ended up as the 9th warmest winter.
Conversely, 1979-80 was, prior to this year, the second warmest December and yet ended up as only the 30th warmest December/January/February. Thus, though not a guarantee, it is very likely that this year the hemisphere will experience one of its five warmest winters in the past 72 years, yet another sign of the robustness of the gradual warming being observed in a number of other ways around the globe.
Steve Ackerman and Jonathan Martin, professors in the UW-Madison Department of Atmospheric and Oceanic Sciences, are guests on WHA radio (970 AM) at 11:45 a.m. the last Monday of each month.