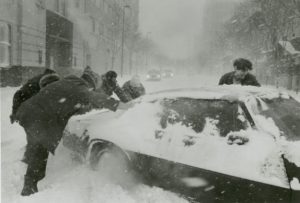 What a storm!
Tuesday is the 29th anniversary of the greatest 24-hour snowfall ever in Madison.
Like most storms, this one had humble origins, but, by a conspiracy of meteorological circumstances, quickly grew into a historic monster.
Early on Dec. 1, 1990, a region of low pressure that had originated in the lee of the Rocky Mountains, made its way into the Oklahoma/Texas panhandle. Such features are a regular occurrence during the cold season.
The storm subsequently developed rapidly as it moved northeastward into Missouri, influenced by its serendipitous association with a potent wave disturbance in the middle troposphere.
As it developed, it spread substantial snows to the north and west of the cyclone track. That type of development and propagation of surface cyclones is an enduring characteristic of storms that bring Madison big snows.
In fact, because of their origins and tracks, such storms are known colloquially as "panhandle hookers."
As the calendar turned to Dec. 3, the storm continued to develop as it moved northeastward toward Chicago, ensuring that the southern counties of Wisconsin remained on the cold side of the track.
Snow began in Madison just after midnight on Dec. 3 and fell heavily all day, totaling 17.3 inches in town by the time the day was over.
Blizzard conditions prevailed throughout the day from Grant County through Madison to Green Bay.
Nearby Adams-Friendship received 22 inches from the storm. The heavy snow was also accompanied by strong winds, gusting to 60 mph, that drifted the snow up to 7 feet in Madison.
Unfortunately, nine people in Wisconsin died from heart attacks related to snow shoveling.