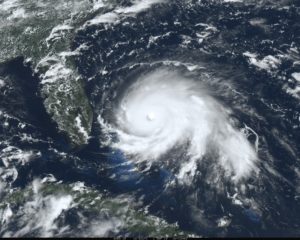 The 2019 Atlantic hurricane season, which ends on Nov. 30, will go down as the fourth-most active hurricane season on record.
There were 18 named storms and 20 tropical cyclones in total, although many were weak and short-lived, especially late in the season.
The season began with subtropical storm Andrea, which formed on May 20. Andrea made 2019 the fifth consecutive year in which the hurricane season began before the official start of June 1. Barry was the season's first hurricane, which formed in mid-July in the northern Gulf of Mexico and struck Louisiana.
The 2019 season was one of seven seasons to feature multiple Category 5 hurricanes, which are storms with sustained winds over 156 mph.
Dorian, the first Category 5 hurricane of 2019, hit the Bahamas, devastating the Abaco Islands and Grand Bahama. Dorian continued on to the U.S. East Coast where it caused additional damage. The total damage caused by Dorian was more than $600 million. ×
Hurricane Lorenzo was also a Category 5 and set the record for the easternmost Category 5 Atlantic hurricane to date. There were more than 60 deaths associated with Lorenzo. The offshore tug Bourbon Rhode sank after sailing through Lorenzo.
Hurricane Humberto was a Category 3 storm, with sustained winds of 111–129 mph. In September, Humberto passed just north of Bermuda and brought hurricane-force winds to the island. Humberto caused more than $1 million in damage and resulted in one death.
Spring forecasts typically predicted slightly above average activity with 13–16 named storms.
There is no single forecast model that is consistently better than other forecast models so forecasters use a collection of models to determine a likely track and intensity of a hurricane.
Over the past decade, track forecasts have steadily improved while hurricane intensity forecasts have only slightly improved.