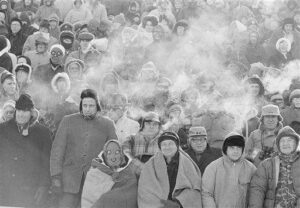 The "Ice Bowl" refers to the National Football League's championship game between the Green Bay Packers and the Dallas Cowboys that occurred on Dec. 31, 1967, at Lambeau Field in Green Bay.
The game was for the NFL title. The Packers entered the contest as the two-time defending NFL champions trying to become the first team in the league history to win three consecutive championships.
It was a great matchup between two strong football teams. The official game-time temperature was 13 degrees below zero. It was the first day of a cold stretch that lasted nine days. On seven of those nine days the temperature did not exceed zero.
The weather the day before had a high of 20 degrees. Just before midnight, an Arctic front ushered in bitter cold air.
During the game, temperatures ranged from minus 12 to minus 14, with wind chills estimated to be 33 to 37 below zero. It was, and remains, the coldest game in NFL history.
Despite the frigid temperature, more than 50,000 fans filled the stadium.
Prior to the start of the game, the football field froze. The field was covered with a tarp, but during the night a layer of condensation had built up between the field and the covering. When the tarp was removed, the field was exposed to the cold air and froze.
The Cowboys won the toss, and a reporter in the press box quipped, "Dallas won the toss and elected to go home." The Packers won the game 21-17, driving 67 yards for the win, leaving 30 seconds remaining on the game clock. After the game, several players were treated for frostbite.
Now, over 40 years later, fans still have fond and frozen memories of that New Year's Eve game.