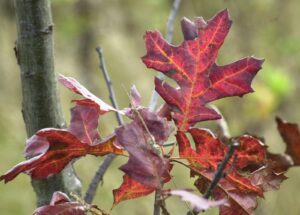 Astronomical fall began on Sept. 22.
Climatologists consider fall as the months of September, October and November. The fall season is also associated with pumpkin patches, fresh apples and beautiful foliage.
Leaves are green in the summer because they contain chlorophyll, which reflects green light more than other colors. Other colors are absorbed by chlorophyll for photosynthesis.
During autumn, the green chlorophyll disappears from the leaves as the leaves stop their food-making process, and yellow and orange colors appear. These colors have been in the leaves all along but we can't see them in the summer because of the chlorophyll.
The color orange comes from carotene, and the yellows from xanthophyll. The bright red and purple colors come from anthocyanin pigments, which are made from leftover glucose trapped within the leaves of some trees, such as maples.
Brilliant fall colors with bright red and purple colors require conditions in which leaves can make a lot of anthocyanin pigments. The brilliance of a fall color season is a function of the weather.
Sunny days and cool nights are the key weather ingredient for brilliant fall colors. The best weather conditions are bright sunny days and cool, but not frosty, nights.
A drab autumn has lots of cloudy days and warm nights. Leaves begin to turn before we have any frosts. An early frost speeds up the fall of the leaves and brings a quick end to the fall color. A few hard frosts can cause the leaves to wither and fall from the tree without changing color.
Many southern Wisconsin regions have not experienced frost. Of course, too much winds, or heavy precipitation would bring the leaves down.
The pandemic has reduced the travel plans of many. But this weekend might be a good time to go for a ride to see the colors.