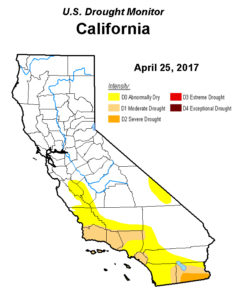 Drought in the United States has been assessed by a number of different measures over the last several decades.
One of the older such measures is the Palmer Drought Index introduced in 1965. The Palmer Index is based on a supply-and-demand model of soil moisture. Of the two, supply is easier to calculate, as it is tied so obviously to precipitation. The demand side of the model is more complicated as it depends on processes such as evapotranspiration — the loss of water from the soil through direct evaporation and transpiration from plants — and the recharge of soil moisture by a variety of processes.
The Palmer Index approximates this complicated nest of processes based on a formula that is based on recent temperature and precipitation. It is quite effective in assessing long-term drought but suffers in making statements on shorter time scales.
In 1999, the National Oceanic and Atmospheric Administration and the U.S. Department of Agriculture developed the weekly U.S. Drought Monitor. By this measure, drought in the U.S. fell to a record low this past week with only 6.1 percent of the contiguous 48 states experiencing drought conditions. The previous record low according to this measure was 7.7 percent in July 2010.
Conversely, the most extensive drought in the 17-plus-year history of the Drought Monitor occurred in September 2012 when drought conditions of one degree or another were spread over 65.5 percent of the lower 48 states.
Most notable currently is the official end of the years-long drought in California that was announced last week. The past winter was quite wet and has filled reservoirs in much of California to capacity. In fact, there are now fears in certain parts of California that the spring snowmelt will induce flooding.
Steve Ackerman and Jonathan Martin, professors in the UW-Madison department of atmospheric and oceanic sciences, are guests on WHA radio (970 AM) at 11:45 a.m. the last Monday of each month.